Talley Student Union recognized for architectural woodwork
11/28/2016
The Talley Student Union at North Carolina State University was recognized by the Architectural Woodwork Institute (AWI) as a winner of the Standard of Excellence awards for the unique and intricate woodwork located within the building. Rodgers served as construction manager for the four-story, multi-purpose building.
AWI announced that the 2016 Overall Standard of Excellence winner is Stephenson Millwork Company, Inc., located in Wilson, North Carolina. The architectural millwork company worked extensively with the architect to create and install a multi-story wooden trellis depicting the NC State wolf mascot, along with numerous other wood elements located throughout the building.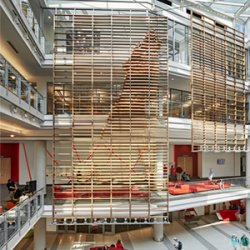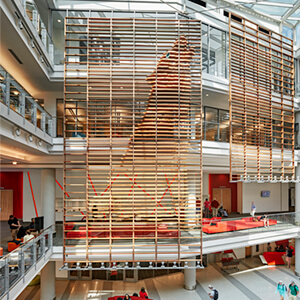 The interior of the student union is designed around a central four-story atrium. Stephenson Millwork designed the iconic "Wolf Trellis" which spans three stories on one side of the atrium, serving as a signature feature of the university. Other items fabricated for the building include food service counters, display cases, reception desks, wall panels, credenzas, lockers, benches and casework.
The design objectives of the entire team were to create a welcoming environment that would serve as a central hub for students, faculty and staff. Successful collaboration and a true team effort resulted in an expertly executed finished product.