Summer interns and employees continue tradition of community service
06/05/2017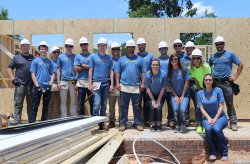 A group of Rodgers' summer interns and employees spent Friday, June 2, 2017, volunteering at two Habitat for Humanity sites, serving their community while working in a true team fashion. With the hot summer sun shining down, the volunteers' work load wasn't easy but the results were rewarding.
One crew worked to construct and raise walls for a new house, while another crew worked cutting and installing interior trim on another newly constructed house. One intern commented, "It was a great experience to watch Rodgers' volunteers and Habitat supervisors interact with each other when going about tasks. Everyone settled into a role and it all came together."
Rodgers employees have participated in Habitat builds over the past 26 years. Service opportunities like Habitat foster a company culture centered not only on growth of the company, but also personal growth and giving back to the community.
Habitat for Humanity of Charlotte strives to help others help themselves, to make a house a home, and inspire individuals to be a pillar of stability for their families. Click here to learn more about the volunteer program at the Habitat for Humanity of Charlotte.