New Women's Center tops out at Nash Health Care
06/18/2015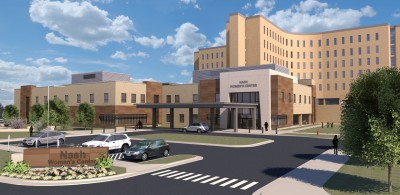 Rodgers' construction team raised a beam with an American flag and evergreen tree in a traditional topping out ceremony for a new 47,048-square-foot Women's Center at Nash Health Care in Rocky Mount, NC.
"Workers have displaced 12,000 cubic feet of dirt, laid 1,700 cubic yards of concrete and erected 300 tons of steel so far – all without a stop-work injury," said Pat Rodgers, CEO for Rodgers.
The new Women's Center will include two floors of state-of-the-art spaces for obstetrical and women's services. The building will boast four triage and consulting rooms, six birthing suites, 16 postpartum rooms, a dedicated room for cesarean sections and 12 private special care nursery rooms.