Eric Reichard Assumes Role of President at Rodgers
04/06/2023
Since its founding in 1963 by entrepreneur and engineer B.D. Rodgers, Rodgers has been fortunate to have experienced significant growth, allowing us to build landmark projects in communities throughout the southeast. Our success can be attributed to our ability to effectively adapt and adjust with an unwavering commitment to excellence and our Mission Statement to build buildings with purpose, to build relationships with integrity, to build people who lead, and to build community with care.
Building on a strong foundation of entrepreneurship and innovation for the future, Rodgers is pleased to announce Eric Reichard will become President of Rodgers, and Pat Rodgers will remain Chief Executive Officer.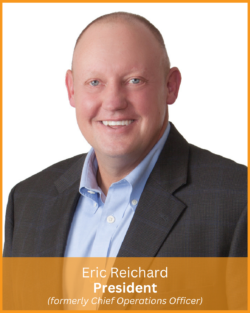 Eric began his career 32 years ago at Rodgers as an assistant superintendent. Since then, his strong work ethic, dedication, and passion for building have paved the way for continued growth within Rodgers, where he has been the Chief Operations Officer for 15 years. A graduate of UNC Charlotte and a licensed professional engineer, Eric is passionate about giving back to the community and has served on the board of directors for Big Brothers Big Sisters of Greater Charlotte and as a board chair for Florence Crittenton Services, Classroom Central, and the Charlotte 49ers Athletic Foundation. Eric won the Florence Crittenton – The Lucille P. Giles Award (2011) and UNC Charlotte – Distinguished Alumnus Award (2017). We are grateful for his continued leadership and are positioned for continued success in serving our growing client base and maintaining our status as a leader in the construction industry and the communities we serve.
Rodgers is grateful for the trust and support of our clients, partners, team members, and neighbors. Thank you for building with Rodgers.