ABC Carolinas Announces 2020 EIC Award Winners
11/13/2020
Associated Builders and Contractors of the Carolinas announced the 2020 Annual Excellence in Construction Awards this week. The competitive program recognizes outstanding construction projects across the Carolinas, chosen for innovation and quality construction, with a strong emphasis on safety. This year, two of Rodgers' projects were honored.
Congratulations to the Atrium Health CMC Main – CEP Emergency Generator project team for receiving a 2020 Eagle Award!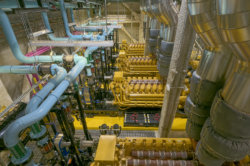 The Rodgers project team at Atrium Health CMC Main completed a build out of existing shell space in the Central Energy Plant in order to add new Emergency Generators. The space houses a new rotation unit, four 3-megawatt generators for additional emergency power, cooling towers for the generators and new switch gear. The team also modified existing switch gear and generators to ensure compatibility with the new system. The emergency generators provide power for all three branches of emergency power required by the hospital – critical, life safety and equipment. In the case of a power outage, these emergency generators are required to fire up, sync and provide power back to the hospital within ten seconds.
And congratulations to the New Hanover Regional Medical Center – Inpatient Tower Addition project team for receiving a 2020 Merit Award!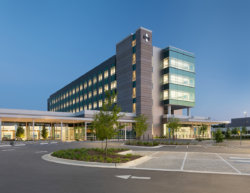 The new Inpatient Tower Addition at New Hanover Regional Medical Center, located in Wilmington, NC, is a four-story, 108-bed inpatient tower expansion built over an existing surgical pavilion and includes three floors of patient rooms atop a mechanical floor. In addition to the vertical expansion, the project scope also includes updates to the existing endoscopy operating rooms, PACU, prep rooms, admitting, and central sterile space, an electrical room expansion, parking deck demo, and a new surgical pavilion entrance and lobby.