St. Francis Cancer Center opens with ribbon-cutting ceremony
11/18/2014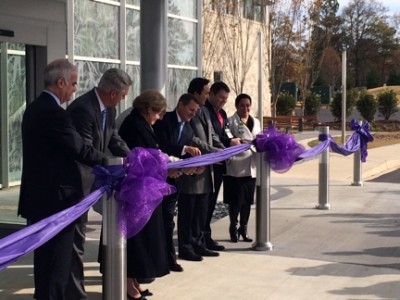 On November 18, a crowd of doctors, nurses, patients along with family and friends gathered at St. Francis Cancer Center– Millennium Campus for a blessing and ribbon cutting led by The Most Rev. Robert Guglielmone, Bishop of the Diocese of Charleston.
"This isn't like going to a hospital, this is like going to a place where you have other people on your journey to fight cancer," said Mark Nantz, CEO of the Bon Secours St. Francis Health System. The Cancer Center places emphasis on the patient's experience and supports a multidisciplinary, team-based clinical care model.
The 65,000-square-foot, freestanding Cancer Center houses more than 50 infusion suites, high-tech radiation therapy vault, medical oncology area, support services, chapel, health food cafe, education and community meeting rooms and an on-site pharmacy.
Read more:
St. Francis Cancer Center is blessed
November 18, 2014: greertoday.com